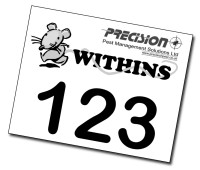 Withins Skyline 2010
Results
What a day! Days of blue clear skies, warm temperatures and no wind are few and far between on the high hill that is Penistone Hill, so maybe that's why a record 348 seniors crowded into the quarry start. This year's English V40 champion Lloyd Taggart showed his class by pulling away from Tom Adams after the climb of Bronte Waterfall and the final moorland stretch. British V50 Champion Steve Oldfield finished thirteenth overall. V70 Malcolm Coles broke Lawrence Sullivan's five year old record by 31 seconds.
In the ladies' race 34 year old Jo Buckley improved from third last year to 50-17 beating Helen Glover and FV40 Pauline Munro.
Wowee! What a junior turn out, 170 Rat finks. This year's fancy dress saw skeletons, pirates, pumpkins, ghosts, witches, Spiderman, Batman, a whole host of fab outfits. George Hobbs stormed to victory in the under 8's race, while in the girls Katie Turland won. Under 14 Max Wharton led in James Hall in a cracking race with two seconds being the difference. In third was Seth Waterman, while in fifth was first U10 Josh Newbold, who also set a new record. Harmonie Waterman finished seventh overall and first GU14, with Sarah Pickering winning the GU12, while Clayton Le Moors have uncovered a talent in Natalya Irvine in the GU10's. English Under 14 silver medallist, Annabel Mason, ran in the GU16's and finished third overall, winner here was Gorden Weight.
Photos
Paul's photos

Dave's photos

Michael's photos

Clive's photos
More
---
Google Map of course (same as 2008, 2009)