Bunny Runs Latest
2017 Details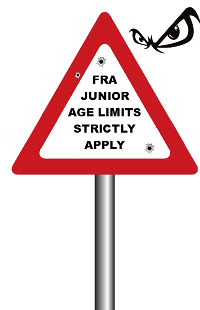 3 individual races on successive Tuesday evenings:
BR1 4th April 7.00pm,
BR2 11th April 7.15pm,
BR3 18th April 7.30pm,
followed by the Bunny Relays on Tuesday 25th April at 7.30pm
All from Dimples Lane Quarry (Do not park in the quarry itself as you'll be in the way!).
Registration at the Old Sun Hotel, Haworth, W. Yorks (GR 026372), 10 mins. from start.
It can be a bit manic on the night - if you want to save time print a Bunny Run Registration form, fill it in, and bring it along. But there'll be plenty of paper forms there on the night.
Cadbury's Creme Egg for all entries
Individual Bunny Runs are CS (Category C Short) fell races. 4.8km with 100m of climb. Entry £2.50 on the day only. Over 12 on the day.
Records: 14.41 J. Thomas 2009; f. 17.05 A. Mason 2013; "Egg Stage" 3.17 T. Adams 2011; f. 3.56 K. Walshaw 2014
All prizes Easter eggs. All 3 races to count for overall awards.
Bunny Run Relays are also CS. 7.30pm start. £7.50 per team of three. Each leg 1.5m/200'. Relay batons are eggs! Almost any conceivable team composition welcome including mixed, family, junior etc. Over 10 on the day.
Record: 8.57 Tom Adams 2015
If you like, print a Bunny Run RELAY Team Entry form, fill it in, and bring it along. But there'll be plenty of paper forms there on the night.
Yes folks, it's Bunny time, so hop to it starting on Tuesday evening 4th April at 7pm, with a chocolate prize list even a chocoholic would have problems coping with! These races are eggciting, bunnylicious, cracking and are only 3 miles long with the reward for everyone being a Cadbury's Creme Egg!
Remember for the Hares amongst you the 'Egg Stage', a fast and furious dash round the small loop which will bring extra chocolate for the first man and lady past the hopping bunny sign. Then of course for those of you who want to have more fun, if that's possible, there is the chance to win chocolate in the fancy dress competition incorporated in the race.
All runners can also take part in the guessing the winners time free competition - the prize is? AN EASTER EGG! See the clipboard at registration to enter.

The Bunnies are renowned for post race fun - free soup and roll in the Old Sun Hotel, Haworth to watch that night's race video on the big screen, stacks and stacks of Easter Eggs in an extensive prize list, flashing bunny ears and watch in awe as the first man, lady and MV40 stagger under the sheer weight of goodies, then the finale the famous chocolate throw out!
And at the end of the series there will be the traditional Bunny Beer for the winners, featuring photos of last year's winners Tom Adams & Ruby Skyres.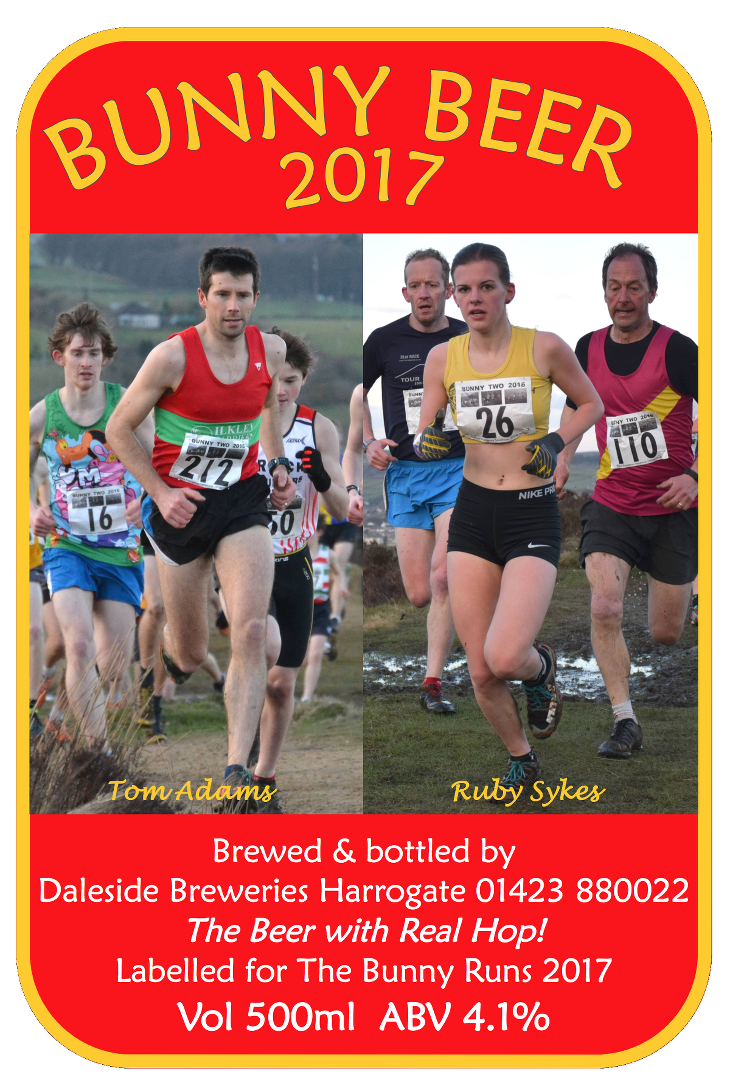 Map
To see an animation of the map below showing the Bunny Run, click on it ...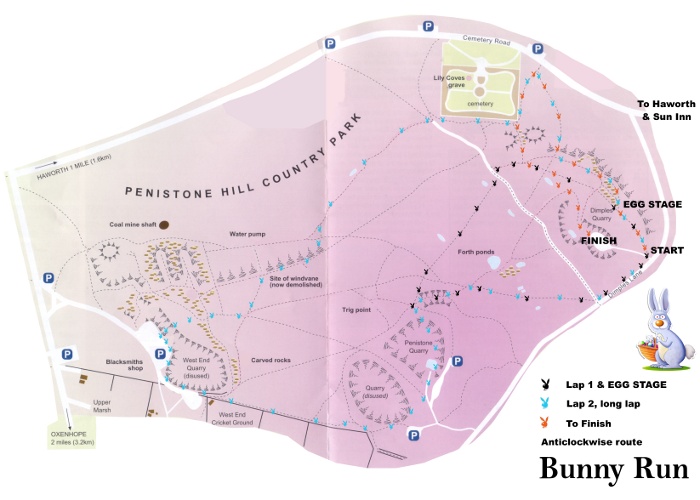 Archive
Past results and photos